A five stars product with more than 18 thousand reviews for a desk-lamp? Yeah. Right... You must be thinking I am lying to you. But the truth is that even the newer model of this lamp has also 5 stars out of 1,920 ratings on Amazon so far, so Taotronics is doing a really good job with their LED desk-lamps. You can get their slick newer model here , or let's find the truth about this popular previous model below.
The colors of the rainbow
This LED desk-lamp comes in black, black wood grain, white, and white wood grain. I know you had already a pride color desk-lamp in your mind right? Well, maybe they'll listen next time. The cheapest is the black one, the most expensive one is the white wood grain one.
I like to move it move it 🎶
For real this desk-lamp sometimes makes me think it's more flexible than a yoga guru. You can put it in 3 million different angles, like for example the head moves left/right in 90 degrees and the base of the arm moves up/down 135 degrees, taking the light where you need it most.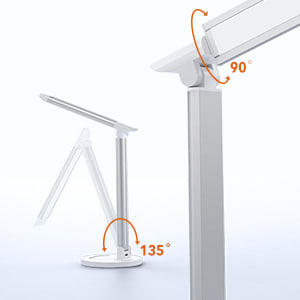 I like to charge it charge it 🎶
A convenient USB port located in the back of the base of the arm base to help you to charge your iPhone, iPad, or even the tiny remote-controlled red helicopter 🚁 that I keep in my desk ready to fly when I'm bored.
You like to...touch it 🎶
A finger slide panel is built into the base of the lamp to set the brightness level of your choice, so DIMM it like a pro. I like how sensible is it like you can easily slide your finger and it instantly responds to your gestures. I got it this lamp in 2017, and it has never given me any trouble. The other button on the base is for the 5 color modes, yes...it includes the soft gold color you want for the avid readers, and more importantly, it does not flick. Ever.
But it doesn't...
Wait, but this lamp doesn't include an app? And why is it not battery powered? Why doesn't tell me the weather? I get it. But this is a LED desk-lamp my friend, not a Ferrari. Its simplicity is what makes it cool. Go get it!