No matter what type of technology enthusiast you are (programmer, designer, blogger, manager), if you clicked on this article is because you love music as much as I do, and/or you're interested in buying some serious piece of sound equipment for your next bombastic project. Listen up, the symphony is about to begin.
The unmistakable sound of a Ferrari
Have you ever turned on a Ferrari, if you don't go ahead and google really quick how does it sound. Did you hear it? Well, as you saw the sound of a Ferrari is truly unmistakable. These Yamaha HS8 speakers have the 'Ferrari' sound for your music enjoyment, music production, mixing, or whatever you want to hear.
- So how they came up with that genius sound?
The energy flow of the sound
Yamaha is very meticulous in all its products, so for the HS series, they developed transducers capable of achieving an astonishingly smooth response. By using an advanced magnetic field design, they regulate the flow of the sound to provide seamless, natural and high resolution sonic transitions. All this means is you can hear literally everything, from noise to rumble.
- I really would like to buy it but tell me more...
A high-performance amp unit
The entire Yamaha HS series comes equipped with a bi-amp with a separate dedicated amp for both the woofer and the tweeter. Meaning that it will consistently deliver high-resolution sound with an incredible flat response across the sound spectrum.
- I feel like I need you to translate that...
Think about this, many cheap and badly designed speakers not only lack a flat sound response, but they usually come with a single amp that tries to digitally adjust the sound resolution, ending in useless bass boosters or noisy highs.
Controls and connectivity
Knowing how to and the best way to place your speakers - explained well here - is a vital part of the wholesome experience. Additionally, the Yamaha HS series comes with what they call ROOM CONTROL. Basically, you can attenuate and control the unnatural low-end or high frequencies when speakers are placed next to walls. For inputs, HS full-range speakers can accommodate a wide range of balanced and unbalanced sources such as mixers, keyboards, and audio interfaces with XLR and TRS phone jacks.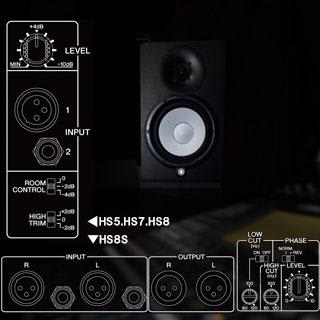 - There has to be something bad about them...
They might be an unexpected surprise for your wallet
The only bad news I can say is that they are pricey, just imagine: only one costs sometimes $500, but they are now on sale for $369 each one, so for a total of $738 you are taking home the 'Ferrari' my friend. Literally the best studio speakers in the market. And last but not least, there are white versions for the HS5, HS7, and HS8.